Latency is a big deal in live streaming.
Say you're watching a sales webinar, and the stream is so slow that the presenter is unable to share links in the text box as she speaks, due to a delay.
Or maybe you're watching a product demo on a screen share, but you're losing the thread because the salesperson's voice isn't audible until ten seconds after he points at something on a screen.
Well this case is not ideal and that's why we helped a webinar platform fix the problem.
But first, let me provide a little bit of context.
EasyWebinar, a 'Cloud Based' hosted webinar platform.
EasyWebinar hosts live and automated webinars on its cloud-based webinar platform. The company helps over seven thousand customers deepen their relationships with their existing audiences, generate leads, and use live and automated webinar funnels to increase sales.
Because the success of these operations is directly linked to the webinar platform's efficiency, EasyWebinar decided to take their platform to the next level by decreasing their latency gap.
EasyWebinar began the process by building a deeper integration with YouTube Live, using YouTube Live as the video stream and EasyWebinar as the frontend.
They lessened their latency gap from 20 seconds to ten, and were able to offer a live streaming solution to users hosting events from 50 to 20 thousand. Not Bad you might think ?
But the company wanted more—they were determined to add HD and no-latency capabilities  and to meet the needs of users who needed to be able to host webinars with over 20 thousand attendees.
They knew they needed to stop relying on outside platforms and build a proprietary solution if they truly wanted to function optimally and stay ahead of the competition,
so they decided to build their own live stream, to compete with GTW and Zoom and offer game-changing engagement to their users.
Incorporating Voxeet's award-winning sound and video technology
EasyWebinar explored technologies that would enable them to build their own platform with no latency and drive customer engagement. They had several additional requirements, too: The platform would need to allow multiple broadcasters in a room, offer crisp screen sharing, allow attendees to present in HD with no delays, and be able to record the meeting.
The team contacted Voxeet about taking advantage of our expertise in the area of sound and video streaming, and on DATE, EasyWebinar's new, no-latency platform, incorporating Voxeet's TrueVoice™ technology, went live.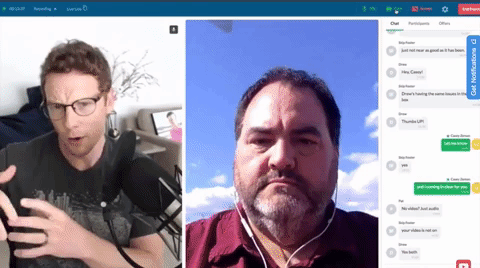 Now, EasyWebinar users can:
have up to 4 people in a live room
share the camera and audio source perfectly in HD and 3D Surround Sound
share the main presenter's screen, as well as any other presenter's screen
record sessions to create evergreen webinars
deliver offers and chat with attendees in real time
invite people into private conference rooms
administrators can bring attendees in and make them speakers
EasyWebinar created a video to show its new platform in action. "This technology will revolutionize live and engaged webinars," said EasyWebinar CEO Casey Zeman.
You can read more of Zeman's thoughts in a blog post about the new platform.
Customers' needs vary, but chances are they involve faster interaction with their target audience and the use of diversified collaboration tools, like screen sharing, presentation, chat, and flexibility between presenters and attendees.
If you want to learn more about how Voxeet's SDK and API can optimize your company's broadcasting capabilities, contact us today for a free demo of the Voxeet communication tools.